As the bitcoin community considers the recent notice released by the IRS, BitPay merchants are already prepared to follow this new guidance.
On March 25, 2014, the Internal Revenue Service released a Notice describing how existing general tax principles apply to transactions and service providers using virtual currency, mainly bitcoin. This notice provides clarity for bitcoin merchant processors and those merchants who accept bitcoin directly. These rules apply to taxes only, as there still is no GAAP guidance for financial statement purposes.
BitPay, in conjunction with our accountants and advisors, has been operating under the assumption for the past three years that rules similar to this notice would be forthcoming, and we have been devoting resources to proper reporting requirements for ourselves and for our merchants.
In September 2013 we released the ability for merchants to download their BitPay sales history into Quickbooks, a leading small business accounting package. This download ability creates a 100% USD report for revenue and expense reporting, whether the merchant chose to receive settlement in USD, bitcoins, or a split of both.
BitPay offers several options to assist merchants in proper accounting and reporting of bitcoin transactions. Below is a screenshot from Quickbooks of a sample BitPay import, showing the proper USD accounting for revenue and expenses of bitcoin transactions.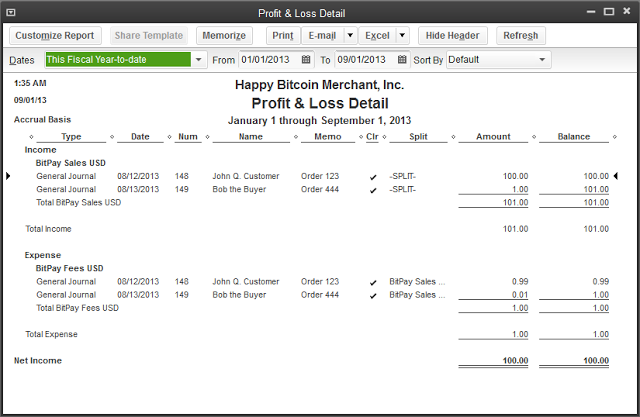 For merchants not using Quickbooks, BitPay also offers a CSV download of the accounting ledger, as well as a JSON download over the API.
Establishing Cost Basis
The IRS Notice included some FAQ, several of which apply to our merchants.
Q-4: What is the basis of virtual currency received as payment for goods or
services?
A-4: The basis of virtual currency that a taxpayer receives as payment for goods or
services is the fair market value of the virtual currency in U.S. dollars as of the
date of receipt.
Q-5: How is the fair market value of virtual currency determined?
A-5: For U.S. tax purposes, transactions using virtual currency must be reported in
U.S. dollars. Therefore, taxpayers will be required to determine the fair market value of
virtual currency in U.S. dollars as of the date of payment or receipt.
BitPay records the USD value of each merchant transaction at the time of the transaction, regardless of whether the merchant chooses to settle in BTC or USD. If the merchant chooses to keep settlement in bitcoin, the BitPay import from Quickbooks records the USD value for each transaction. The instructions provided by BitPay will help merchants add BTC (or mBTC) as a currency in their local Quickbooks software.
Tax Reporting
The IRS Notice also mentions the reporting requirements for payment processors such as BitPay.
Q-15: Are there IRS information reporting requirements for a person who settles
payments made in virtual currency on behalf of merchants that accept virtual
currency from their customers?
A-15: Yes, if certain requirements are met. In general, a third party that contracts with
a substantial number of unrelated merchants to settle payments between the merchants
and their customers is a third party settlement organization (TPSO). A TPSO is
required to report payments made to a merchant on a Form 1099-K, Payment Card and
Third Party Network Transactions, if, for the calendar year, both (1) the number of
transactions settled for the merchant exceeds 200, and (2) the gross amount of
payments made to the merchant exceeds $20,000. When completing Boxes 1, 3, and
5a-1 on the Form 1099-K, transactions where the TPSO settles payments made with
virtual currency are aggregated with transactions where the TPSO settles payments
made with real currency to determine the total amounts to be reported in those boxes.
When determining whether the transactions are reportable, the value of the virtual
currency is the fair market value of the virtual currency in U.S. dollars on the date of
payment.
BitPay filed and mailed 1099-K forms to all of our merchants meeting the criteria for the past two tax years (2012 and 2013). We follow the proper guidance to report all gross sales, regardless of the settlement currency. This reporting notice is included in our Merchant Terms of Use (Miscellaneous - Taxes).
BitPay Merchants are Already Prepared
Since BitPay offers merchants a USD cost basis ledger for every bitcoin transaction, and has already filed the proper 1099-K forms, merchants accepting bitcoin through BitPay are fully prepared to meet their tax obligations as outlined in the IRS Notice. If you are a merchant and have questions, please contact us.